SIR Strategic Projects 2015-2019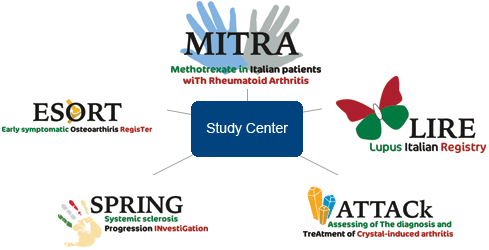 The Italian Society of Reumatology (SIR) has individuated the issue of early diagnosis and treatment of rheumatic diseases for its importance and has therefore promoted clinical research in rheumatic diseases in the early phase as fundamental activities included in the 2013-2014 strategic programme.
To this end, 5 parallel projects have been developed on different rheumatic diseases that have been identified as priorities for patients, for rheumatologists, and also for the SIR: rheumatoid arthritis, systemic lupus erythematosus, crystal-induced arthritis, systemic sclerosis and osteoarthritis.
The development of research projects was entrusted to project leaders of recognised experience in these fields with the task of using the resources available within the SIR (such as SIR study groups, SIR study centres, or special groups of experts) to conceive, design and implement the various projects.
Highlight
Guidelines / SIR Recommendations
English and italian language.
News EULAR
by Prof. Maurizio Cutolo.
Official magazine
Reumatismo
Official Journal Of The Italian Society Of Rheumatology. Founded In 1949.
Fit for Work
Fit for Work Italia
Disabling chronic rheumatic diseases, between health and work.
Next 4 congresses
January

2023
March

2023
April

2023